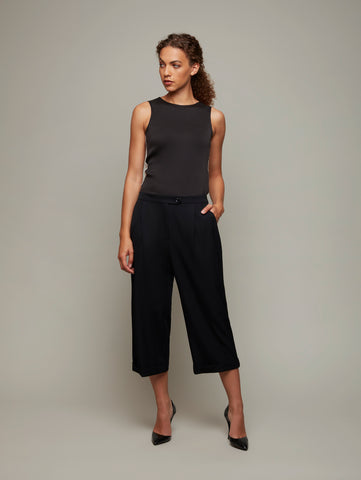 METOPE | Tailored Turn-up Culotte
DESCRIPTION & STYLING
Code: T018
Discover a blend of tradition and modernity with our ​METOPE Classic Mid-Waist Suiting Cropped Trousers. Tailored to perfection, these trousers exhibit a meticulous front pleat that not only adds a dash of sophistication but also provides a flattering silhouette to various body types. The tasteful turn-up at the hem encapsulates timeless elegance while offering a modern-day relaxed fit.
The real magic lies in the fabric - sumptuous Gaberdine suiting tropical wool. Known for its luxurious feel and unparalleled comfort, Gaberdine wool gracefully drapes around your frame, perfectly balancing structure and fluidity. The tactile finesse of this exquisite fabric sets a distinguished tone that's palpable to the eyes and to the touch.
Style these versatile trousers with a silk blouse and a pair of stiletto heels for a polished, chic look. Or, pair them with a fitted blazer and a pair of sleek loafers to exude a powerful, business-ready facade. The neutral palette of the trousers provides a magnificent canvas to explore various looks, from minimalist to extravagant.
[fabric] Made with the finest 100% Gabardine Wool Suiting. [/fabric] 
[size] Please click here for our full size chart with key measurements.
If you need further information or advice on specific fit for particular garments, please do not hesitate to contact us at mail@deployworkshop.com or +44(0)20.79351219 [/size]
[delivery] Please allow 2-3 business days for your order to be processed and dispatched. International shipping typically takes 3-5 working days from the date of dispatch. Prices are net of value added tax. International orders are exclusive of import duty and custom charges. Return of non-faulty goods must be sent within 14 days of receipt, with a completed DEPLOY Returns Form. Click here for more info on Delivery & Returns [/delivery]  
SIZE & FIT
Please click here for our full size chart with key measurements.
If you need further information or advice on specific fit for particular garments, please do not hesitate to contact us at mail@deployworkshop.com or +44(0)20.79351219
Delivery & Returns
Please allow 2-3 business days for your order to be processed and dispatched. International shipping typically takes 3-5 working days from the date of dispatch. Prices are net of value added tax. International orders are exclusive of import duty and custom charges. Return of non-faulty goods must be sent within 14 days of receipt, with a completed DEPLOY Returns Form. Click here for more info on Delivery & Returns 
"Takes 'green' to a new level" - BBC WORLD NEWS -

"Realises women's long-standing dream" - VOGUE -

"It won't be long before the rest of the word catches on to DEPLOY" - HARPER'S BAZAAR -
"The ideal go-to for working women looking for chic, sustainable pieces" - GLAMOUR -

"DEPLOY's interchangeable clothes are a godsend" - SUNDAY TELEGRAPH MAGAZINE -

"Exciting innovation and lasting fashion" - MARIE CLAIRE -